Training Curriculum
We train you to become Epoxy Application Specialists
We offer training classes to Company Teams that need to hone their skills through the best application techniques taught by our industry experts with all the insider tips and tricks to get a job done right, or for the DIY Individuals that want to learn a new skill. Email us at info@e2u.com for answers to any questions.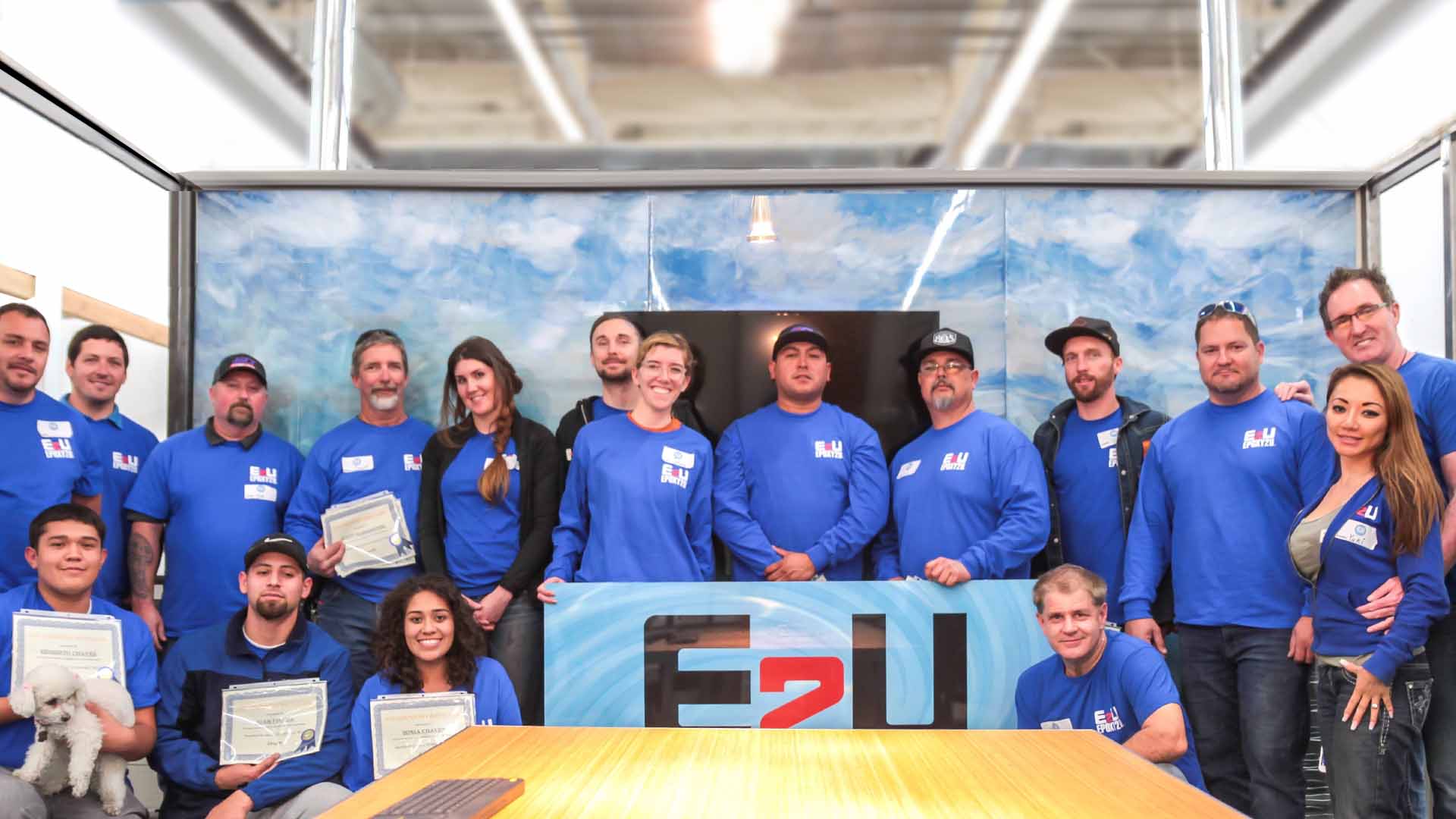 One Day Garage
In our training course we will cover how our Flake Systems can be installed in one day. This class will also demonstrate the best possible ways to prep concrete floors, mixing components, crack repair pros/cons, and sales/marketing techniques. Our wide range of products will provide you with endless opportunities on how to turn a profit in and around the home.
Metallic Epoxy
One of the most requested looks form high end clientele. Metallic epoxy satiates the needs of those customers looking for that marble or stone look but want it at a fraction of the cost. We teach you the techniques and trick to lay down your epoxy to look like marble or a wide variety of unique textures that customers are always looking for.
Decorative Epoxy
E2U Clear Art, Decorative Concrete and Countertop Classes training course is designed to help you understand the application on concrete surfaces, floors, countertops, or as furniture. Our instructors have decades of combined experience installing decorative coatings. Each course shows you how to make concrete look like wood, marble, granite, tile and more. If you're looking to learn new skills or hone your current skills, this class is for you.
Business to Business
Learn how to apply the most popular look that all automotive shops, marinas, restaurants and industrial warehouses need to have. We not only teach you how to apply the epoxy but also answer your questions on customer relations, care and expectations from businesses that have lot of experience in what they want and expect great quality .
Training Class Overview
Watch this short video giving you an overview of what our training courses are like. We cover everything you need to do epoxy application just right. So if there is anything you ever wanted to learn we know we will teach you what you need and answer all your questions.
Click Here to watch more of our Videos:
More Videos
DIY & Entry Level Training
You will learn product selection, tools and equipment, followed by the opportunity to physically apply the coatings. This will work to your advantage for a number of reasons. One, you will get accustomed to the equipment and tools you need to install these floors in the field. You will also get answers to all the questions you may have about the installation process and the materials required. If you are a beginner in this field, you will get to see the experts at work and learn the necessary tricks for a perfect finish. You will also get enough practice before you can start doing these floors for your clients. The best part, if you get to keep all the work you complete for your showroom.
We understand how intimidating working with epoxy can be and in many cases you only get one shot on getting it right (well, unless you grind everything back down and start over, not a cheap solution there).  Our entry level classes answer all you questions and give you the best chance at creating the beautiful floor design you envisioned. The best part is that once you've taken one of our classes, we will be there for if you need to call us and ask some refresher or last minute questions.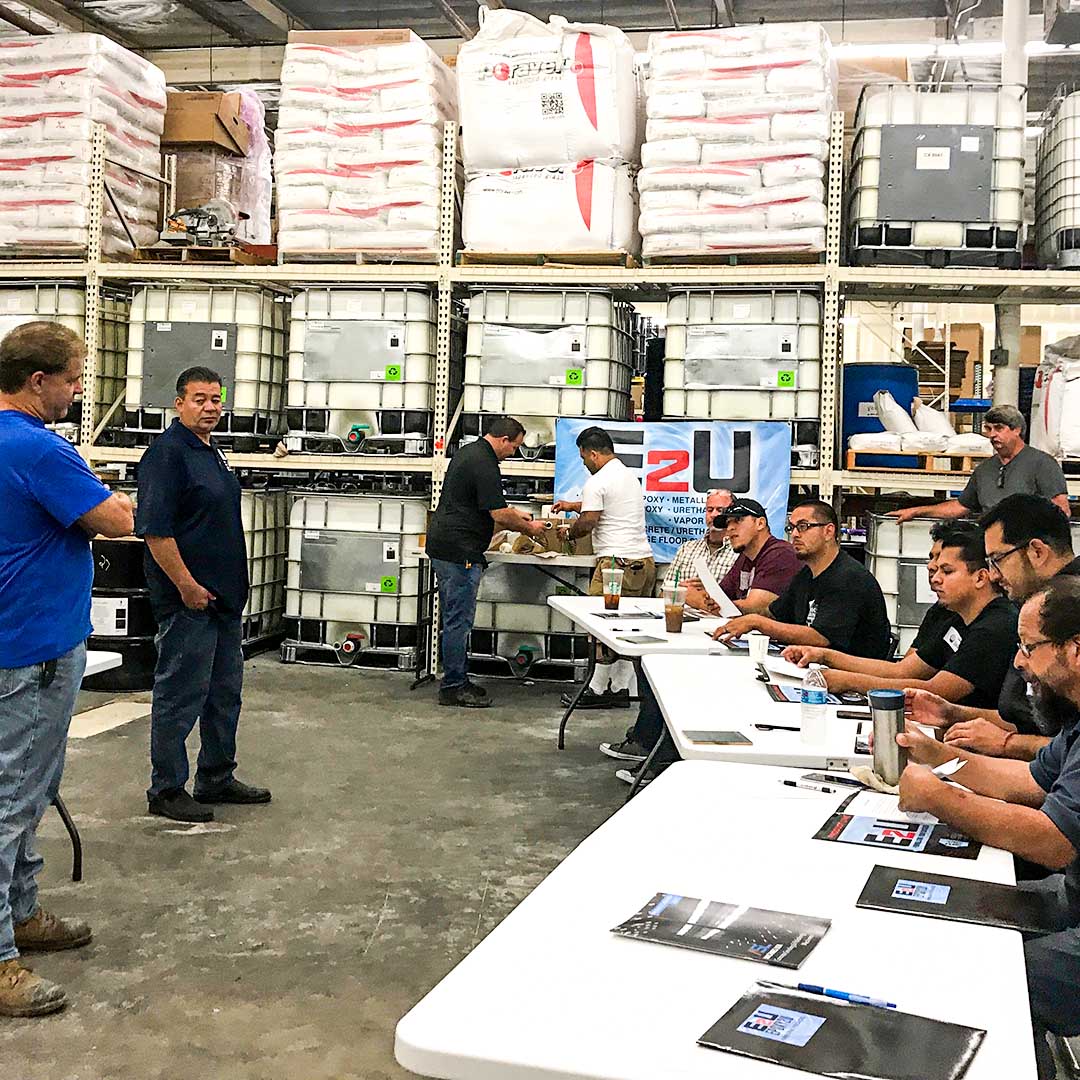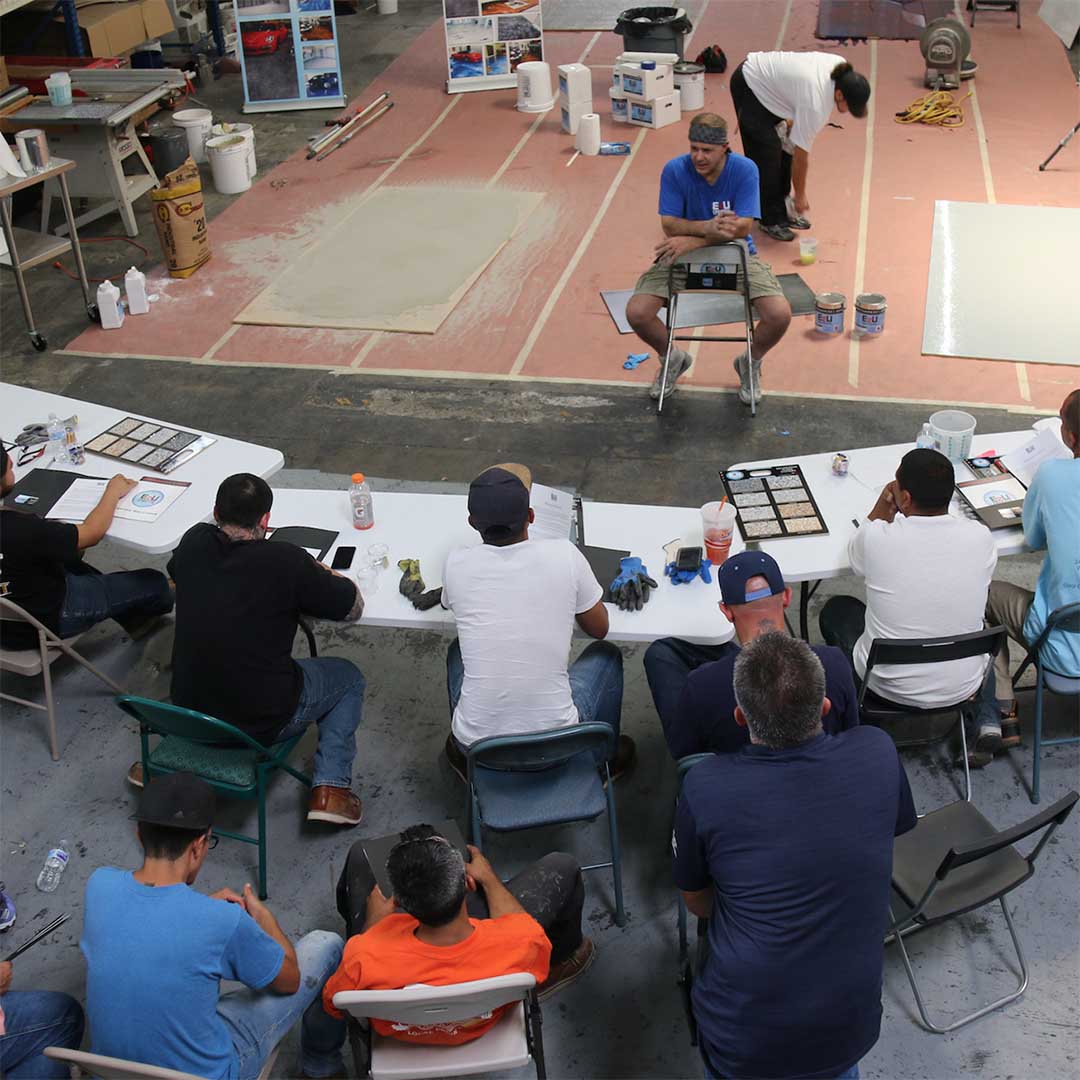 Corporate Training
It always helps to keep your skills sharp by taking refresher classes or maybe your company is now offering epoxy as a new product line. Out corporate training is designed to get industry professional going fast and answer all your questions for  out most skilled installer. Remember, E2U is a manufacturer, our owner is a chemist, so out training can truly give you some insights you may not get from any other classes. We understand epoxy on a molecular level and prepare you for all the inevitabilities you may encounter.
Become an expert at industrial or artistic Epoxy while learning industry secrets from our qualified instructors including:
Countertops
Flooring
New & Existing Surfaces
Metallics & Dyes
Sealing & Troubleshooting
This training will cover our full line of Epoxy products so you understand what product to use and when. You'll learn various application styles, multiple uses of tools, experiment with metallic pigments and accent with alcohol dyes along with discovering industry tips and secrets. Our qualified instructors have experience in both decorative and classic Epoxy applications.
Testimonials
See what past students had to say about E2U's Training Classes.
Click Here to watch more of our Videos:
More Videos