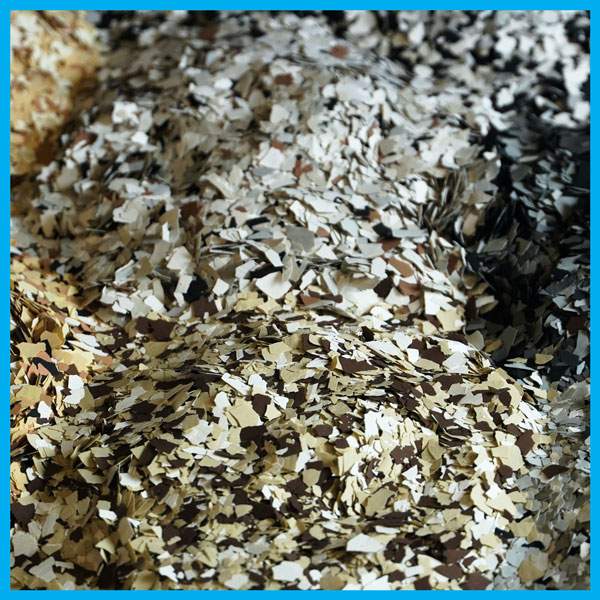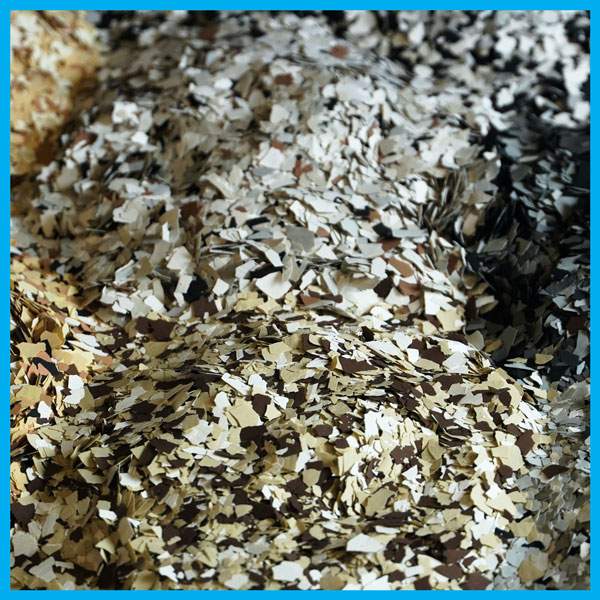 Flake System (1/4″ Chips) – 25 Lb Box
$88.89
-
The E2U Flake System offers a natural stone look for your epoxy, polyaspartic, polyurea, and urethane floor coating system. E2U Flake System is broadcast into a colored epoxy, polyurea, polyaspartic or urethane base-coat. Our flake systems are sold in 25 lb. boxes. How much to use depends on the look desired. The more flakes used the less you see of the base coat color and more you see the flakes.
---
---
Coverage:
Coverage depends on application
Generally, a 25 lb box will cover 250 sqft. – 10 sqft./lb
For a partial broadcast, you can apply the flake system at the rate of 20 sq./ft. to 200 sq./ft. of floor coating per lb. of flakes. For full broadcast to refusal it takes substantially more, 10 sq./ft. per 1 lb. Full broadcast means flakes are applied so heavy that the coating can't absorb anymore and they are sitting on the surface.
- Decorative natural stone look/li>
- Hide sub-surface imperfections
- 9 different pre-mixed color blends to choose
- Optimal flexibility and strength
- High color stability
- Low sound / noise deadening qualities
- 1/4" size chips
Coverage depends on application, generally, a 25 lb box will cover 250 sqft.
Introducing our Flake System 1/4″ Chips – Elevate Your Flooring Projects to the Next Level!
Upgrade your flooring with our high-quality Flake System 1/4″ Chips, available exclusively at e2-uv.com. Whether you're a professional contractor or a DIY enthusiast, these versatile chips will add a touch of elegance and durability to your surfaces.
Key Features:
Enhanced Aesthetics: Our 1/4″ chips are available in a variety of colors and patterns, allowing you to customize your flooring to match your unique style and preferences. Create eye-catching designs and transform any space with ease.
Durability at Its Best: Made from premium materials, these chips are built to withstand heavy foot traffic, impacts, and daily wear and tear. Say goodbye to frequent repairs and hello to long-lasting beauty.
Easy Installation: No need to be a flooring expert. These chips are designed for hassle-free installation, making your project smoother and more efficient.
Versatile Applications: Ideal for both residential and commercial spaces, our Flake System 1/4″ Chips can be used on various surfaces, including garage floors, basements, workshops, and more.
Safety First: Enjoy slip-resistant flooring that enhances safety in your environment, especially in areas prone to moisture.
Eco-Friendly: We care about the environment. Our chips are manufactured with eco-conscious practices, ensuring minimal environmental impact.
Value for Money: Each 25 lb box provides ample coverage, giving you excellent value for your investment.
Transform Your Space with e2-uv.com's Flake System 1/4″ Chips.
Enhance the aesthetics, durability, and safety of your floors effortlessly. Whether you're upgrading your home or commercial space, our Flake System 1/4″ Chips are your ideal choice.
Don't miss out on the opportunity to elevate your flooring projects to the next level. Order your 25 lb box today and experience the difference for yourself. Join the ranks of satisfied customers who have already transformed their spaces with e2-uv.com!
| | |
| --- | --- |
| Weight | 26 lbs |
| Dimensions | 16 × 16 × 16 in |
| Color | California Gray, Hazelnut, Light Gray, Medium Tan, Midnight, Saddle Tan, Smoke, Tuxedo, Red, Blue, Black, White |